Dubuque Fine Arts Players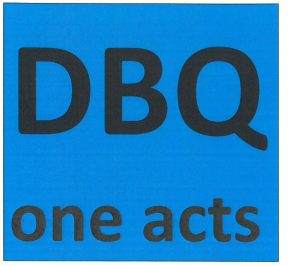 Produces Premieres of Winning One-Act Plays –
From Its 38th Annual National Contest
August 20, 21 and 22, 2015 – 7:30pm
Nation's oldest one-act play writing contest premieres three prize-winning dramas on Mindframe's stage.
World premiere live performances of three outstanding new theater works will be presented by Dubuque Fine Arts Players in its 38th Annual National One-Act Play Festival on August 20-22.
The performances are winners in Dubuque's contest, the longest established one-act playwriting contests in the nation. Since 1977, the Dubuque Fine Arts Players (a theater wing of the Dubuque County Fine Arts Society) have sponsored a national one-act playwriting contest and have offered productions of the winning scripts.
The contest is a unique theater tradition. Every year playwrights from around the US and several foreign countries submit unproduced original one-act plays to the contest. Each script goes through a rigorous screening process in which scripts are read by a panel of volunteer script readers. What makes the contest unique is that the readers represent people from all walks of life in the community. After multiple readings, the top ten scripts from this process are then evaluated by a panel of directors and final judges who select the three prize winners and determine which plays will be produced and staged by local volunteer actors, directors, and technicians.
For a third year, the productions will be at Mindframe Theaters in Dubuque, through a partnership with Mindframe.  Special lighting and stage embellishments and the availability of refreshments have made this a popular and memorable evening of live theatre for Festival patrons.  This year's plays are provocative, humorous and thoughtful:
First Prize: The Other Half by Garry Michael Kluger (LaCrescenta, CA), directed by Lynda Mackie and featuring Lisa Anderson, Stephanie Bussan, Melissa McGuire, and Pearl Olson. A drama with some wonderful comedic moments, in which three women come to grips with a woman they thought they knew.
Second Prize: No Koch, Pepski by Ed Gross (Westwood, NJ), directed by Carrie Pozdol, with performances by James Brown, Aaron Pozdol, and Art Roche. A clever satirical commentary on the current state of political campaign finance.
Third Prize: Love in a Minor Key by David Finney (Chicago, IL), directed by Dan Fairchild. Actors include Robert Armstrong, Ryan Michael Decker, Jan Haverland,  Lynsay Haverland, and Lisa Pence.  A comedy about a widower trying to move on emotionally and physically.
Performances of this year's one act plays will be August 20, 21 and 22 (Thursday, Friday, and Saturday) at 7:30 pm at Mindframe Theaters, behind Kennedy Mall in Dubuque. All three plays are shown each evening.  An opportunity to meet the directors, actors and possibly some playwrights for discussion will follow the performances each night. Tickets are $15.00 at the door, $10 for college students with ID and younger.   More at www.dbqoneacts.org.
Contact information for the winning playwrights and the three directors is available on request.